SWISSFASH & The Launch of ONI RANGE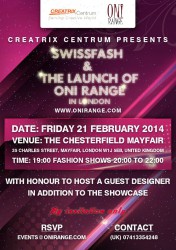 With great pleasure we would like to announce
Creatrix Centrum
Presents
SWISSFASH  & The Launch of ONI RANGE  www.onirange.com
In LONDON on Friday 21 February 2014
Venue: THE CHESTERFIELD MAYFAIR
35 Charles Street, Mayfair, London W1J 5EB, United Kingdom
http://www.chesterfieldmayfair.com
 Time: 19:00 Fashion shows 20:00 to 22:00
With honour to host, in addition to the showcase
A Guest Designer
 The event will be by invitation only and RSVP is required to be sent to events@onirange.com and attendance afterward confirmed.
 For any more information please contact: (UK) 07413354248
About ONI RANGE www.onirange.com
ONI RANGE is members only and "On-Line and one stop Shop" where we sell direct to End-users and a platform for the highly deserved fashion designers to collaborate. The set-up is about encouraging and supporting our members through "the Power of Collaboration" to enhance their creativity and profession.
ONI RANGE is part of ONI FASHION HOUSE LTD Company Number:08837705 England and Wales.