Sarah Christian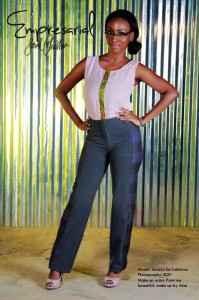 Sarah Christian is a young and lively lady with a passion to create fashionable art to be worn ideally by women with eyes open to best in the world. She graduated from Kwame Nkrumah University of Science and Technology with a B.A in Communication & Design
Since in her earliest years Sarah has been driven to work towards art and fashion. After attending Holy Child School where she studied art Sarah registered for Vogue Style School of Design in 2007. Later as a university student she decided to register her company and fashion brand and get started on her career.
A great opportunity came along in the form of the KNUST Fashion Weekend and from this moment Sarah Christian was launched in the direction she had always wanted.
The Brand
Sarah Christian: "Our vision is to improve the world in which we operate – creating a better tomorrow than today. We long to build a successive brand where people can come to find and discover beauty.
"We believe that we are here to make great products to leave you glowing both inside and out – and that is not changing!"
The brand has been developed by releasing great fashion collections. There was "The Vivacious Collection", then came "Empresarial Collection" and afterwards "Chida- the best collection ever".
Sarah has gradually carved a funky, sassy, sexy and contemporary niche to her line.
Sarah Christian's brand plays with colour for the bold independent lady in society.
www.sarahchristianonline.com