PRESS RELEASE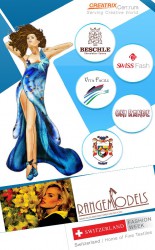 http://www.bigleaguekickball.com/category/press/ soma no rx saturday delivery   FOR IMMEDIATE RELEASE Thursday 20th February 2014
 SWISSFASH & The Launch of ONI RANGE at THE CHESTERFIELD MAYFAIR, Friday 21 February 2014
On Friday 21st February 2014 ONI FASHION HOUSE LTD will stage SWISSFASH and Launch ONI RANGE www.onrirange.com – Swiss & British plus New World Inclusive Lady Fashion Range of High Class, Upmarket & Infinitely Versatile Couture Clothing.
Show & Launch Details-
Venue:   THE CHESTERFIELD MAYFAIR, 35 Charles Street, Mayfair, London W1J 5EB, United Kingdom www.chesterfieldmayfair.com
Date:      Friday, 21st February 2014
Time:     19:00 – 23.00
ONI RANGE is a dedicated member only and "On-Line" and "One-stop Shop" where we sell direct to End-users and a platform for the highly deserving fashion designers to collaborate. The set-up is about encouraging and supporting our members through "The Power of Collaboration" to enhance their creativity and profession. NOT Competitions. This would un-doughtily help some fashion designers to overcome the challenge of doing little about their individual creativity.
Omer Kokou-Tchri Creator of ONI RANGE:
– "ONI RANGE – www.onirange.com a dream comes true. This is another platform dedicated to helping struggling deserving fashion designers."  "Combination of this official Launch and other exciting Fashion presentations with networking, drinks and light bites with a twist of Swiss influences"
 "ONI RANGE Philosophy is having a covenant with humanity where by 10% of ONI RANGE Profit is re-invested in humanity and good causes."
ONI RANGE target market is European Union & Switzerland.
 ONI means Wanted; popularity (Egyptian); Born in holy place (African); Devil (In good way Japanese)
  Admission for SWISSFASH & The Launch of ONI RANGE is strictly limited to an Invitation and Guest List Only.
 ONI RANGE is part of ONI FASHION HOUSE LTD, Company Number:08837705 England and Wales.
Further Information
Call: Omer on (UK) +447413354248
Email: omerk@onirange.com
Website: www.onirange.com
(End)